Tokyo's Best Tsukemen Experiences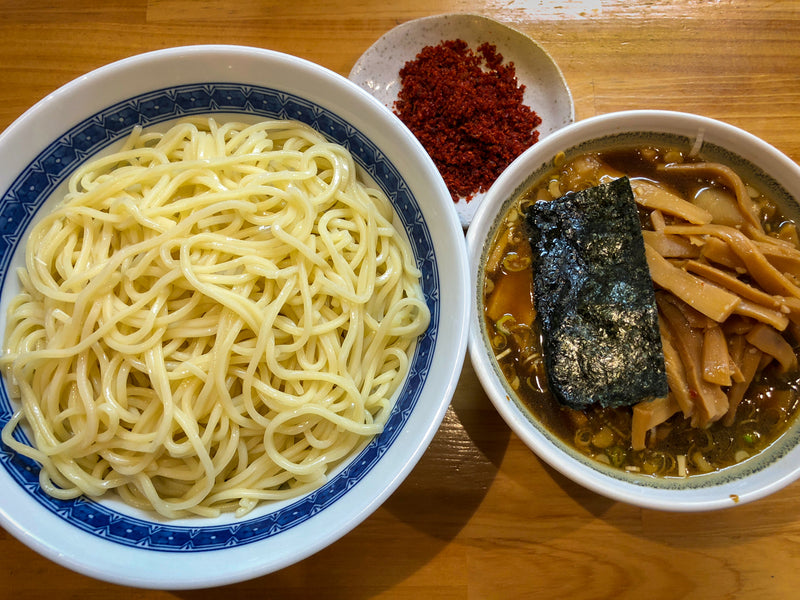 From legendary shops dating to the start of tsukemen culture to cutting-edge innovators, here's where to go for the finest dipping noodles in the Japanese capital.
The wildly popular variety of ramen known as tsukemen is relatively new by Japanese standards.
The roots of tsukemen can be traced back to the west side of Tokyo in the early 1950s, when a group of former soba masters opened a ramen shop where they developed a habit of eating leftover noodles by dipping them in condensed soup as a quick staff meal during breaks. While it took several years for this back-kitchen innovation to make its way onto a restaurant menu, once it reached the public the fad hit hard. Tsukemen gained popularity across Japan during the 1970s and 80s, before exploding during the new school ramen movement of the past two decades. It is now one of the most beloved styles of ramen in Japan. 

For newcomers to the dish, the difference between ramen and tsukemen is simple. With tsukemen, the noodles and soup are served separately. The eater then dips the noodles, typically served chilled or at room temperature, into the piping hot soup before slurping them up. Tsukemen soup tends to be saltier and richer — better for dipping than drinking, allowing for bolder, more explosive flavors. The noodles also are usually thicker and chewier than ramen noodles, providing more surface area to transport the soup from bowl to mouth. The naked presentation of the noodles also raises the stakes: since they are served solo, it's all the more imperative that they be high-quality. Today, the variety of soups, techniques and ingredients used by chefs across Japan to prepare tsukemen is dizzyingly diverse. 

Here is Ramen Beast's list of Tokyo's best tsukemen experiences as of late 2020.

TSUKEMEN WITH RICH SOUP

KAZU

Master Kanai-san trained at the acclaimed shop Tsukemen Michi in Kameari, then became manager of Michi's second shop 'Michi no Buta' before opening Kazu in 2018. The soup here is a tonkotsu gyokai double soup, with noodles supplied by Kanezin (same as Michi). The tonkotsu soup is made from chicken bones, chicken feet, pork trotters and heads. This base is then combined with a gyokai (seafood) soup made from niboshi, saba-bushi and ago (dried flying fish). The soup takes two days to make. No MSG. Unlike most tsukemen shops which rinse their noodles in cold water, the noodles here are washed in water at room temperature. A housemade garlic soy sauce can be used in the soup or put directly on the noodles.

KISSOU
Kissou serves both ramen and tsukemen, with both being recommended. The rich double soup of tonkotsu and gyokai is winner. Medium width, slightly wavy noodles are housemade. High level ajitama and chashu. Run by a husband and wife team, using a strict but efficient system. No photos are allowed inside the shop other than of the ramen. Only open for lunch, just a few hours of the day. Since 2006.


MICHI

Master Nagahama-san first apprenticed at the shop Kashiwa Taishōken Chiba before opening his own shop when he was just 22 years old. Michi is an intimate and tiny shop, with just eight seats arranged around the counter. The rich, velvety soup contains chicken, gyokai and tonkotsu. Noodles are special ordered via the maker Kanezin. Housemade selected toppings are arranged on side dishes, presented in an elegant way that elevates the experience. An elite-level and well known shop.  (Important side note: on Monday and Tuesday the shop is open the menu is completely different, serving a Shio Tsukemen and Ramen. If you are a first time customer, best to go on a day other than Monday or Tuesday). 


MIYAMOTO

The top recommendation at Miyamoto is tokusei tsukemen, with one of the heavier niboshi soups in the game. The soup exudes delicious fishiness. It's made from three different types of iwashi niboshi — katakuchi, seguro, shirokuchi — as well as aji and squid niboshi. It's rich, thick and concentrated, oozing umami. Noodles are housemade and toppings are all high quality. Master Miyamoto-san trained at the shops Nagi in Shinjuku and Ittou in Koiwa. Open since 2015.


SANADA
Master Setoguchi-san was the first manager at the shop Rokurinsha in Ōsaki, one of the most infamous and legendary tsukemen shops in modern day Tokyo. The rich tonkotsu-gyokai syle soup here is made from pork leg bones, trotters, minced pork, Daisen brand chickens and dried fish. The thick noodles contain tapioca and are special ordered from the purveyor Kaikarō using a special unique recipe. This shop originally opened in Saitama in 2014, however moved and reopened in the Tokyo suburb of Kita-Senjū in 2019.
TSUKEMEN WITH LIGHTER SOUP

HONDA

Master Honda-san is widely considered one of the elite ramen chefs in Japan. He originally trained under the legendary Yamagishi-san at Higashi-Ikebukuro Taishōken, before opening his own shop in Higashi-Jūjō in 2008. In April 2020 Honda-san moved the flagship to a brand new more central location in Akihabara. Multiple styles are on the menu, including shoyu and shio ramen, as well as tsukemen. The soup base is made with chickens and four types of gyokai, including hamaguri clams. Noodles are house-made in a noodle room at the shop, the tsukemen is served with kombu dashi. A top level shop all around.  

BENTEN
This legendary Tokyo ramen shop opened in Takadanobaba in 1995, where it developed a cult following with long lines daily. In mid-2014 the shop closed (with 4+ hour waits during its final days), only to reopen again in 2016 in Narimasu, Itabashi-ku. The soup is made from pork and gyokai, with choice of the standard and recommended shoyu tare or shio, also popular. Salty, slightly sweet and slightly tangy, with options for spicy too. In some ways the soup is reminiscent of Higashi-Ikebukuro Taishōken, but unique enough for many to consider this its very own 'Benten' style. Noodles are house-made. Still run by the original master Tanaka-san. Ramen and tsukemen both available, both equally popular. 


MARUCHŌ (in Ogikubo)
Maruchō is a legendary ramen shop within the Tokyo scene. The shop was established in 1947 by a group of five soba masters who came from Nagano Prefecture and began serving a cheap shoyu ramen during the desperate days of the post-war period. According to local lore, it was common for the staff to take the leftover noodles from the strainer and eat them soba-style, by dipping them in a more concentrated version of the ramen soup — a proto form of tsukemen. Other shops were the first to take this innovation and put it on the menu as tsukemen, and Maruchō followed suit slightly later. Today, this bowl is probably as close to the original tsukemen as you can find anywhere. The soup is made with chicken, pork, vegetables and a generous dollop of MSG. The noodles are house-made and served slightly softer than average. One of the original five masters, Aoki-san, ran the shop for decades before his son (who is now elderly himself) took over and is still running the kitchen to this day. There are numerous other Maruchō shops around Tokyo, most with direct lineage to this flagship. A historical site in the Japan ramen world.

TOSHIOKA
Toshioka serves ramen and tsukemen in various styles, all of it based on the recipes from Benten. Master Okabe-san trained at Benten, when the legendary shop closed (for a period of time), he opened his own. Pork bone and gyokai (fish-based) soup, harmonized with a salty shoyu tare that packs a punch. It's old school Tokyo style, yet refined and done at the highest possible level. If you want some heat, opt for a side dish of 'karami,' a crumbly red chili-like substance that you add to the bowl as you eat. Master Okabe-san does all prep and runs the shop solo, making the noodles by hand each day in a room adjacent to the shop. Legions of fans. 

UCHOKU
Uchoku opened in December 2018 and has quickly emerged as an elite level destination shop. The go-to bowl here is the 'Katsuo Kombu Dashi Tokusei Shoyu Tsukemen.' The soup contains chicken, katsuo and kombu, served with a shoyu tare. The handmade noodles come on the side in a clear kombu dashi. After finishing your noodles, you should use the remaining kombu dashi as 'wari soup' by pouring it into your potent tsukemen soup, making it drinkable. Ramen also available.



Other acclaimed rich soup shops to check out:  

FUUNJI
Chicken-gyokai soup is made from katsuo and kombu, paired with medium thick noodles. A popular shop, run methodically by master Miyake-san, who is self taught.

GONOKAMI SEISAKUJO
Specializing in shrimp tsukemen, made with tomato and options for miso and pesto too. Thick house-made noodles. Run by Itsuki, a shop in far west Tokyo. 5-10 shops in the group, all with different seafood based menus. 

ITTŌ
Savory tonkotsu-gyokai soup contains dried fish, pork bones and chickens, in particular birds sourced from a specific farm in Ibaraki Prefecture. Master Yukihiko Sakamoto runs a handful of shops in the Koiwa area, all serving different menus. This is his original flagship. 

SEITOKU
Soup is a double blend of tonkotsu and gyokai, of course, topped with shrimp oil. Master Sasaki-san is self taught, every morning he comes in early to make the noodles by hand from scratch. 

WARITŌ
Master Kazutoshi Kumagai trained at Tetsu, the celebrated shop in Bunkyo-ku. The soup is a potent tonkotsu-gyokai tsukemen, noodles by Murakami Asahi Seimen. Yaki-ishi (hot stone) available at the end by request. 


Other excellent light soup shops:

MUGINOKA
Master Yamaguchi-san runs an esteemed shop nearby that used to be in this location. Menu inspired by the legendary shop Benten. Open since July 2020.

SHIMA
Open since June 2020, the master trained at the famous shop Shinasobaya, then worked at several other top tier shops. Tsukemen noodles served in katsuo-kombu dashi. 

KANDA KATSUMOTO
Complex umimi-rich soup is made from chicken, dried fish, pork and kombu. Two types of noodles are served in each bowl. Run by master Matsumura-san, who operates a handful of highly ranked shops. 

MARUCHŌ (Mejiro)
Open since 1954, a legendary old school Tokyo tsukemen shop, with direct ties to the birthplace of tsukemen, Maruchō in Ogikubo. Blue-collar shoyu soup with house-made noodles. Only open for lunch. 

YAMATOKI
Each bowl here comes with hand-pounded temomi style noodles, which master Tomiyama-san personally pounds out on the counter before dropping them into the boil. The soup is chicken and pork-based, and the tare contains a blend of three varieties of shoyu, as well as flavor from dried oysters.