Post-Pandemic Ramen Hunting: 10 New Shops to Try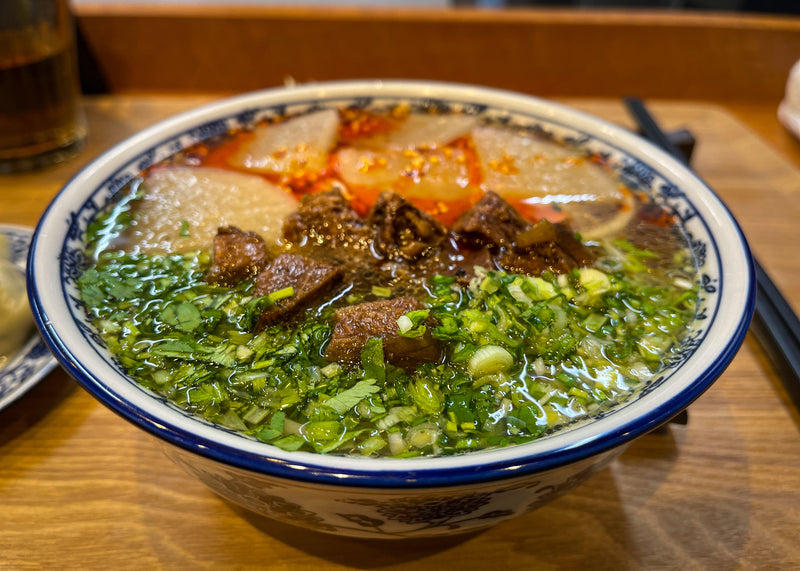 The past year was difficult for many of us, and the global restaurant industry was particularly hard hit. Japan, however, never experienced a mandatory lockdown, so dining establishments large and small have faired much better here than in many other parts of the world. In fact, not only have fewer restaurants been forced to close in Japan, new places have continued to open at a steady clip.

In Tokyo's vast ramen scene, many dedicated chefs opened ambitious shops throughout 2020 to considerable success. With incoming travel expected to reopen sometime in 2021, many of these shops are awaiting the anticipated return of tourists to Japan. For foodies and travelers already dreaming about a trip to Tokyo, here are ten new ramen shops to pencil into your pending itinerary. The shops were selected for both excellence and ease of access for visitors. 
  
Mendokoro Honda
Mendokoro Honda has been a long-standing ramen institution for the better part of the last two decades. After setting up shop in the Higashi Jujo area of Tokyo for the last 12 years, a new location has opened in the anime and manga heavy district of Akihabara. Whether you're into Japanese subculture or not, you're most likely curious to visit this area at least once, and Honda is definitely the place to stop by for your mid-day lunch break. The menu is completely different from their previous Jujo location, serving up an uber-flavorful shoyu ramen and one of the most refined tanrei, or light tsukemen, you'll find in Tokyo. The recommended order is probably the tsukemen, which is made in a trending ramen style that many visitors likely haven't experienced yet. That being said, everything on the menu is top class.



Chuka Soba Horikawa 
A recent trend in the ramen industry is regional shops moving to, or opening up new locations, in Tokyo. One such shop is Chuka Soba Horikawa, which gained success in Osaka over the last 3+ years. After closing up the Osaka location, Horikawa moved to the ritzy, residential area of Jiyugaoka, bringing along its fantastic niboshi style ramen along with it. The ramen Horikawa serves comes both as neo-Tokyo-style Chuka Soba, or Niboshi heavy, brimming with phenomenal umami flavors. Shoyu tare accentuate the powerful dried fish notes and round out the bowls nicely. Springy noodles soak up the soup and make for a satisfying slurp, each and every bite.



Ayagawa
Opened in Ebisu just before the end of 2020, Ayagawa hails from Japan's Kagawa Prefecture. In fact, the shop name is derived from the Ayagawa-cho area of Kagawa. Kagawa is famous for udon noodles as well as 'oya-dori' (flavorful old hens), and shop serves a chicken soup composed of 95% oya-dori and 5% waka-dori (young chickens). This bowl is all chicken, with thinly sliced oya-dori chashu and options for additional chicken skin on top. The noodles are house-made in the shop teuchi aodake style, using a bamboo pole. Standard noodles are cut extra-thick on a number 12 cutter, and there are even 20 limited bowls available each day with noodles cut on an ultra thick, number 4 cutter. There are various rice bowls available on the side that are worth trying. An excellent new addition to the always trendy Ebisu area.




Matsudo Tomita Menban (Tokyo station)

Ramen enthusiasts around the world may already know the Tomita name from the 2017 documentary Ramen Heads, which profiled the colorful chef behind the renowned tonkotsu-gyokai tsukemen shop, Chuka Soba Tomita. But despite the shop's fame, relatively few tourists to Japan actually visit Tomita-san's flagship shop, because of its location in Matsudo, Chiba, in the distant outskirts of Tokyo. However, since the success of the documentary, Tomita has opened a new location near Tokyo station, one of the capital city's most accessible areas. The new branch serves up essentially the same menu as their HQ Matsudo location, allowing casual eaters a chance to try a version of Tomita's famously rich, decadent soup without the long travel and endless wait. But even though the new branch does make for a passable alternative, hardcore foodies may still want to visit the original location — where Tomita-san still does the bulk of his cooking — to taste the real deal.

Nippon Ramen Rin (Tokyo station)
Hailing from the northernmost prefecture of Japan, Tokyo Ramen Rin is actually a new concept of the popular shop, Japanese Ramen Noodle Lab Q in Sapporo. Upon the success of Noodle Lab Q, the shop was offered a space within Tokyo station in the popular Grandsta shopping and dining area. Nestled within the station, Tokyo Ramen Rin serves up a superb version of the highly popular recent style of chicken shoyu ramen. The soup is clean and refined, with an elegant chicken base stock providing much of the deep flavors, with an alluring shoyu tare rounding out the bowl. Snappy noodles hide beneath the shimmering soup, creating an experience you won't believe you're having in the middle of a train station. Surely a shop to visit on transit to your Japan travel destinations.




Asakusa Rairaiken (Yokohama Ramen Museum)
Originally opened by master Ozaki-san in Asakusa in 1910, Rairaiken is considered by many to be the first Tokyo ramen shop. The business closed in 1976, and was thought to be gone forever before its surprise renewal when it opened at the Shin-Yokohama Ramen Museum in October of 2020. The shop is produced in collaboration with Shinasobaya, who developed the menu with Ozaki-san's grandson Takahashi-san, who is now the only living person who can still remember the taste of the original Rairaiken in Asakusa. The original Tokyo ramen is made with a shoyu-based soup containing chickens, pork and vegetables. Aodake Teuchi noodles are handmade with a bamboo pole using wheat from Nagano Prefecture. While this is most certainly an improved version of the original, you can still appreciate the history. Shumai dumplings on the side are also recommended.



Zamu Zamu no Izumi (new location)
This is not your typical ramen shop, but for handmade Lanzhou style beef noodle soup, there aren't many places better than this anywhere in the world. Master Ma-san is Chinese-Canadian, and prior to moving to Japan, he lived and worked in the U.S. for several years. His full-time job is still in IT, but his real passion is for the food of his roots (and childhood). His relatives run one of the top restaurants in Lanzhou, China, which is where he sources some of his ingredients. In order to open this shop, he went through a multiple-year visa application to move some of his family members from China to Japan so that they can work in the kitchen. The menu is one hundred percent halal, everything handmade in the shop. Ma-san says the water in Japan is superior for noodle-making, hence some of the world's best hand-pulled noodles can be found here. Originally opened in Saitama Prefecture in 2017, the shop moved to a much more accessible new location in Hiroo, Tokyo in late 2020.



Mensoan Sunada
Taking over the space at one time occupied by the high-level shop "Tsuta no Ha," Sunada quickly caught the attention of Tokyo ramen heads when it opened in April 2020. The menu consists of Shirakawa-style ramen made with soup containing a few different types of chicken and zero MSG. The medium-thick, wavy noodles are handmade teuchi style and aged for several days before use. The pork chashu topping is hung and slow roasted over charcoal, developing a smoky fragrance. Wontons are made by hand to order — even the wonton skins are house-made from scratch. The shop is run by master Sunada-san, who previously worked as a salaryman before quitting his job at the age of 53, and starting an apprenticeship at the well-known shop Watanabe in Takadanobaba. After training there for two years, he finally opened his own shop — and it's a stunner. One of the true rookie all star shops for Tokyo in 2020.

Menpeki Kunen
Based in Iogi, Menpeki Kunen was launched in March 2020 by master Ishioka-san, who trained at various respected ramen shops around Tokyo before finally venturing out on his own. Ishioka-san's clean, crisp soup is made with high-grade chickens, niboshi and an assortment of vegetables. The straight, medium-thin noodles come from the high-end supplier Kanno Seimen. The soup has good impact and is well balanced with decadent chicken oil. The generous slices of pork chashu are so tender you hardly need to bite. Another of the strongest rookie debuts of 2020. 
Menya Sign
Open since October 2020, this establishment offers a few different kinds of ramen, all produced via a collaboration effort from a few well-respected shops. The go-to bowl is probably the shoyu ramen, designed by the shop Sakurai in Mitaka. Daisen Dori and Nagoya Cochin brand chickens are used in the soup, and four different varieties of soy sauce (mostly sourced from Gunma Prefecture) go into the shoyu tare. Toppings include slow-cooked chicken, pork chashu and wontons. Shio ramen and niboshi ramen are also on the menu, produced by the shops Yatagarasu in Kudanshita and Tsukihi in Kameido, respectively. The shop also has some reported connections to the legendary master Ichijō-san of Ganko Ramen in Yotsuya-Sanchome. A dream team set-up here, and the ramen shows it.