Tokyo's Best Vegan and Vegetarian Ramen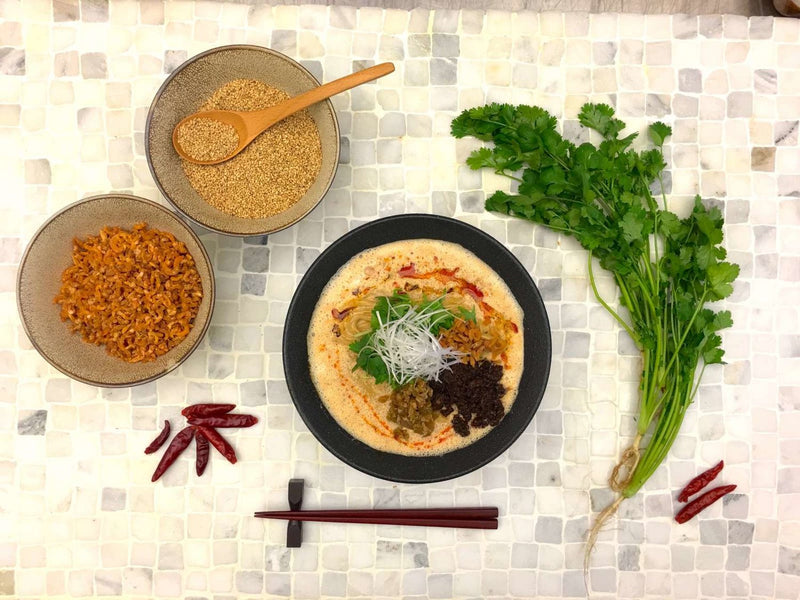 Where to find a high-quality, veggie-based bowl of ramen in Japan's capital city.
Japan may be one of the world's great food destinations, but it's no secret that it can be a tough place to navigate for vegans and vegetarians, given the ubiquity of fish and seafood in Japanese cooking. This reality certainly extends into the Japanese ramen world, where up until a few years ago, the notion of vegan ramen was basically incomprehensible. Thankfully, for our many non-animal-eating friends, that's beginning to change. Here are the best bowls of vegetarian and vegan ramen in Tokyo as of late 2020.


SORA NO IRO
The signature touch at Sora No Iro – which translates to 'color of the sky' – is light ramen presented with an artistic flair. Most of the dishes are generous with fresh vegetables and there are multiple vegetarian options, as well as gluten free noodles. The standard menu item is shoyu ramen, with chicken and thin noodles supplied by Tsukuba Seimen. That being said, the menu is constantly evolving and changing, with photogenic ingredients that are artistically presented. Master Miyazaki-san, who first trained at Ippudo, now runs a handful of ramen shops in Tokyo. This is the flagship in Kojimachi, open since 2011.


AFURI
Hiroto Nakamura opened Zund-Bar in the foothills of Mt. Afuri in rural Atsugi, Kanagawa Prefecture, in late 2001. The remote location was selected so that the shop could cook with the fresh water coming from a natural mountain spring. Following the cult success of Zund-Bar, Nakamura-san went on to open a Tokyo satellite named AFURI, which was met with strong success and spawned an additional 10+ outposts in Tokyo and overseas. The popular vegan ramen is served with a medley of fresh vegetables. The standard bowls at AFURI consist of a clear soup made from chicken, pork and gyokai, which is served with some fresh yuzu skin. Ramen, tsukemen, spicy options are available. The shops are located in premium areas of central Tokyo, where good ramen shops are scarce. And they are all open late. The slick interiors, quality bowls and easy access make this one a favorite for first-time visitors to Tokyo.


NOODLE STAND TOKYO
Master Nishimaki-san opened Noodle Stand Tokyo in September 2017, after having run the shop Miraie near Akabane for a few years from 2014. In September of 2020 the shop moved from a cramped underground location to a brand new space on the 2nd floor of a new building. It's a stylish shop with a forward-thinking menu. The vegan ramen is made with a soy milk soup, with kombu, sesame and coconut oil. The bowl is topped with vegetables, beans, chili oil and nuts.


OUKA
Ouka is one of the very few halal ramen shops in Japan. The official shop specialty is a non-vegetarian spicy ramen made with a fish-based soup and served with a side of grilled chicken, egg and baby corn. But the shop also offers a vegan ramen, which is also available in a spicy version. Made with konbu soup, sesame oil, and topped with an assortment of vegetables, it's light, clean and served with thin, chewy noodles. The shop has menus in English and English-speaking staff who are happy to answer any questions you might have about the ramen and its ingredients.
T'S TANTAN
Located in the heart of JR Tokyo Station, T's Tantan is one of the city's easiest to access vegan ramen options. A ramen-focussed spinoff of T's Restaurant, a popular vegan eatery and health food emporium in Jiyugaoka, the shop offers various ramen dishes entirely free of animal product, including spicy tantanmen, shoyu and tomato based soups, with toppings ranging from faux-minced meat made from soy to kabocha squash, pumpkin seeds, leafy greens, bean sprouts and more. The shop markets itself as a mainstream eatery for health conscious Tokyo denizens of all stripes. Location Note: The shop is located inside the ticket gates of JR Tokyo Station, at the end of the Keiyo Street shopping parade on the way to the Keiyo Line platform.